LAST OF THE RED HOT LOVERS
by
Neil Simon
A revival of the 1997 box-office smash hit.
'THE BEST OF THE RED HOT FUNNIES' -The Irish News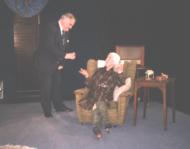 Simon is the undisputed master of comedy on Broadway. He cut his literary teeth on the legendary Bilko series after all... patrons at the Riverside Theatre Coleraine - where the show opened and played to large appreciative audiences as part of the summer season, and at the Belfast Festival production in the Edinburgh Suite - were helpless with laughter.


Gordon Fulton and Roma Tomelty


'CENTRE STAGE NEVER DELIVERS ANTHING LESS THAN STYLISH WORKS AND NOW OFFERS AUDIENCES A RARE CHANCE TO SEE SIMON'S SUBLIME COMEDY....' - The Belfast Telegraph




And the Cork Examiner wrote

Barney ... looking for a little excitement. Enter Elaine, Bobbi and Jeanette, but whoever invented the phrase 'smooth as an illicit kiss'? In Simon's play it comes with sharpened teeth. Roma Tomelty plays the cynical, wisecracking Elaine with grating conviction,


...Mary Moulds flits about the stage like a deranged butterfly, ...Dolores McNally consistently hitting the precarious balance between de- pression and comedy.
At the head of this Gordon Fulton reigns supreme; he makes the most (intentionally) disingenuous character believable. He is impressive throughout. ...Laughs are two a penny, ...so are memorable one-liners. ...the quality of writing and playing shone through and made for a hugely enjoyable piece of witty comedy.
Gordon Fulton and Dolores McNally
Last of The Red Hot Lovers is regarded as one of Simon's funniest plays, but in the tradition of the best comedies has just an edge of bitter-sweet to it.
Sponsored by

Commercial Property Consultants
---